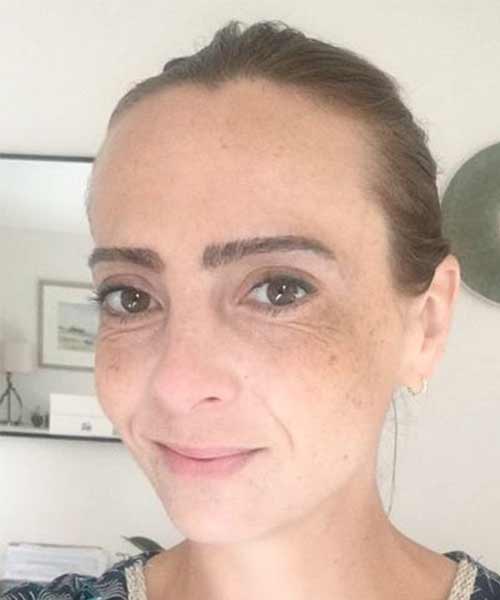 • Kundalini Yoga Teacher - International KRI and FFKY (French Federation of Kundalini Yoga) Certification
• Training in Archaic Reflexes, RMTi® (Levels 1, 2 and 3 and Module 'Facing Fear')
After teaching children (Master 2 in Language and Literature), then helping animals through an animal protection association, I committed my time to yoga, on my path of exploration of self-awareness, respect for the body and guidance of the soul.
I like to guide others on this same path of self-discovery, which is always singular, in order to identify the uniqueness of each person.
Trained in Kundalini Yoga at the Amritnam Sarovar School in 2014, I have an accredited diploma from the French Federation of Kundalini Yoga and KRI (International Certification). In 2014, I taught in Croissy-sur-Seine, then moved to New York for two years, where I was able to continue teaching Yoga.
Since 2018, I have resumed my activity as a Yoga Teacher/Yoga Therapist, especially through speech therapy, in Croissy-sur-Seine.
I am also trained in RMTi® (Levels 1, 2 and 3 and Module 'Facing Fear').
This knowledge of archaic reflexes complements the teachings of yoga, in order to work on the nervous system through rhythmic movements.
Kundalini Yoga is a powerful yoga that combines static and dynamic postures, breathing, meditation and relaxation.
It is a holistic practice that integrates all facets of the human being - physical, emotional, mental and spiritual. It focuses on the healing of the body and mind and helps to reduce stress.
The body exercises strengthen the nervous, endocrine, vascular, lymphatic and respiratory systems in order to face the daily challenges by bringing the body back to homeostasis, rebalanced and calmed.
It proposes a true inner journey to experience letting go, incorporating conscious breathing, body awareness and meditation.
We often function like a GPS that refuses to take uncharted paths. Kundalini Yoga resets the parameters, resetting to learn new routes and allowing something else to emerge.
It increases resilience and calmness.
It can be a source of inspiration to feel solid, calm and collected, to be ready to face the challenges of modern life. It helps to generate new roots, letting go of what may limit you, to grow in serenity, motivation and joy.
Experience a space of peacefulness and embodied spirituality.
Kundalini Yoga allows us to align head, body, and heart, with one momentum, to feel our deepest integrity. Integrity is understood here as the state of being of something that remains intact, whole, in its original essence, that has not been altered in any way. In coherence, in congruence, in harmony.
Languages : French, English and German
Weekly classes offered at Wellfuz:
Monday 2pm- 3.15pm Kundalini Yoga (FR or ENG)

Monday 8:15pm- 9:30pm Kundalini Yoga (FR or ENG)

Wednesday 2.15pm- 3.15pm Children's Yoga 6/10 years (FR or ENG)
Private lessons available.