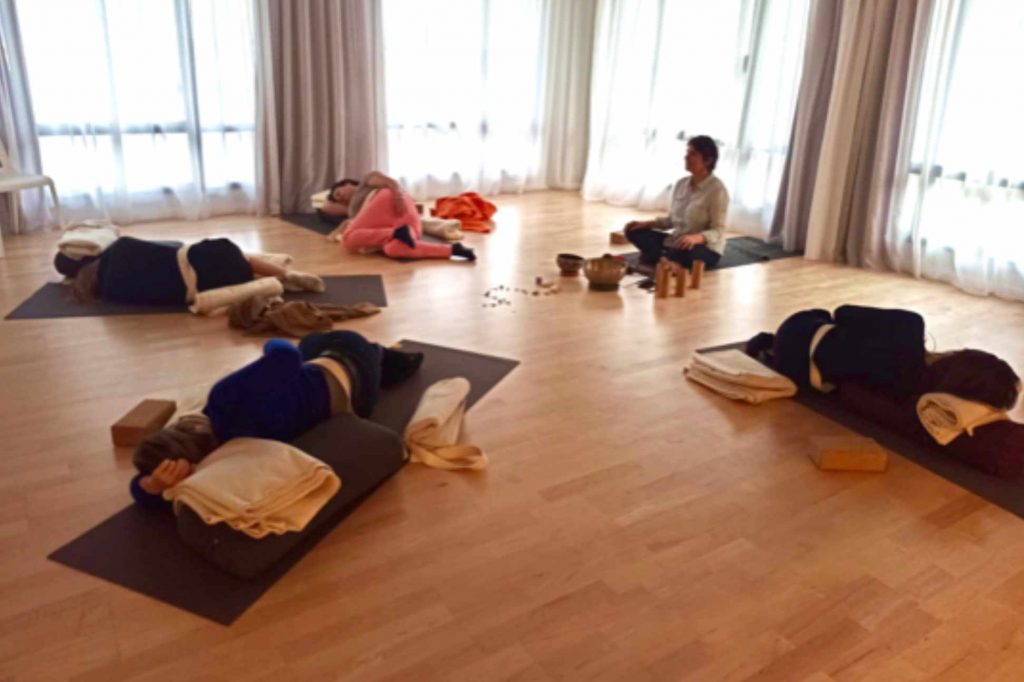 At Wellfuz we offer a wide range of yoga practices and sports disciplines. Our instructors are eager to introduce you to their movement classes. All our classes require reservations. All our classes are by reservation.
WHAT'S NEW FOR THE 2023/2024 SCHOOL YEAR
Alignment yoga, based on the principles of Hatha and Iyengar, focuses on the meticulous adjustment of postures to optimize the balance between strength and flexibility. This approach aims to create a solid foundation for practice by emphasizing correct posture and the use of props.
A sequence of exercises in circuit form to work all the muscles of the body in a fun way.
A cardio workout inspired by martial arts, combining movements from boxing, kickboxing, and karate to improve physical condition and coordination.
This class is designed to improve your strength, endurance, and agility through a variety of functional exercises. Using equipment like resistance bands and jump ropes, we target all muscle groups for a balanced workout. Whether you're a beginner or more advanced, this class will push you to exceed your limits in a friendly and motivating atmosphere. Come sweat, tone up, and have fun!
The pace and intensity of Hatha Flow sit midway between Hatha and Vinyasa. More fluid than the former and gentler than the latter. The term 'flow' invites fluidity. So, it involves Hatha postures as the name suggests, some held statically for longer periods, alternating with more or less dynamic sequences, paced by the breath. A practice that is both gentle and invigorating, as relaxing as it is strengthening, respectful of each individual's body and level.
A fluid yoga practice focused on presence and letting go.
Targeted training on the muscles of the thighs, abdomen, and buttocks, aimed at toning and strengthening these specific areas of the body.
A dynamic session combining dance and fitness, using movements inspired by Latin and international dance styles to improve physical condition while having fun.
Latin Dances (salsa/bachata)
Come learn and practice Latin American dances, such as salsa and bachata. This class teaches the movements, rhythms, and specific techniques of these dances while encouraging individual expression and the joy of dancing.
And, as always, our staples...
Pilates is a set of physical exercises aimed at strengthening the deep muscles, improving mobility, balance, and alignment.
A blend of strength and fitness training with various somatic therapy techniques, using or without small equipment (straw balls, balls, resistance bands...), focusing on pain management and considering any chronic pain you may have.
Strength Training - Chair Gym
An "adapted physical activity" class designed for people with osteo-articular discomforts/pain, rheumatism, back pain, chronic conditions, post-natal recovery, as well as for "sedentary" individuals or those working behind a computer.
Morning Muscle Wake-up - Stretching
Training in standing, sitting, or lying positions that combines elements of body balance®, safe floor®, barre, yoga, and Tai Chi. It promotes intra-articular comfort and mobility, body awareness, balance, relaxation, flexibility, postural tone, energy flow, and vitality.
A playful "health and well-being" activity using a Swiss ball adapted to your needs. This activity helps maintain physical condition, strengthen the back, relieve pain, and release tension.
Postural Ball® Pre & Post-natal
Postural Ball Post-natal is a "health and well-being" activity using a Swiss ball and exercises tailored to the specific needs of pregnant women and postpartum recovery (starting from the prescription of rehabilitation sessions with a physiotherapist).
A group session of sophrology for adults to be discovered during your lunch break.
Take some time to relax and enjoy a relaxation session that allows you to release muscle tension and calm your mind.
No specific attire required.
Sophrology for Pregnant Women
Prenatal sophrology sessions allow expectant mothers to mentally prepare for motherhood, better cope with bodily changes, approach fears and doubts with more gentleness and confidence. During these sessions, we also work on positive anticipation of childbirth and pain management.
Green Yoga® is based on Vinyasa yoga (a sequence of dynamic movements initiated and harmonized by breath), with a focus on precise alignment and a particular emphasis on developing energetic awareness. It leads to a balance of the body and mind, mastery, and expansion of breath.
Hatha Yoga is a traditional and authentic form of yoga on which all other postural yogas are based. Widely practiced in the West for its physical and physiological benefits, bringing relaxation and well-being, its original purpose in India is to establish a balance between the body and the mind.
Kundalini Yoga is a powerful practice that combines static and dynamic postures, breathwork, meditation, and relaxation.
It is a holistic practice that integrates all aspects of the human being - physical, emotional, mental, and spiritual. It focuses on healing the body and mind and reducing stress.
Gentle Yoga is a regenerative practice that seeks to preserve and develop vital energy. This practice follows a slower pace and allows for gentle movement of the body, calming the nervous system, and releasing physical, mental, and emotional tensions.
Yoga for Guys is a yoga class designed for men (where it's okay if you can't touch your toes).
Strong, energetic, and invigorating, Yoga for Guys combines the best yoga postures to strengthen the core, tone muscles, work on cardio, reduce stress, and improve clarity, along with functional fitness exercises for an incredible workout.
A set of gentle, slow physical exercises and mental visualizations aimed at helping individuals maintain or restore balance in their "energies."
The foundations of this energy practice are rooted in martial arts and traditional Chinese medicine.
Our advantages for the classes:
• A spacious 110m2 room to ensure physical distancing
• Small groups: maximum of 14 people for individualized attention
• Teachers selected for their professionalism, quality of teaching, passion, and kindness
• Regular classes and occasional workshops
• The opportunity to discover various types of yoga and fitness classes.