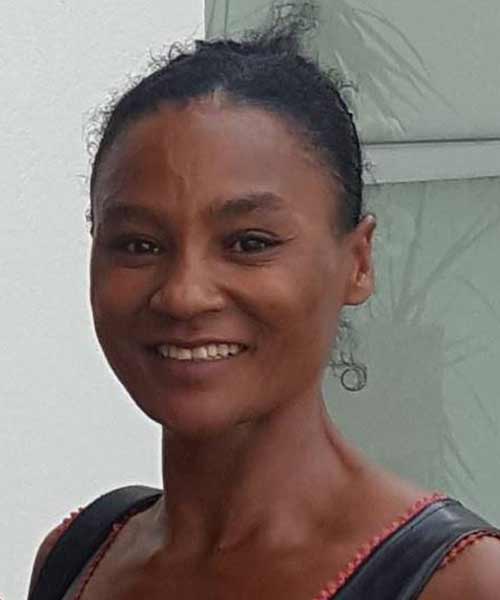 Medical-Sports Therapist for adults, pregnant women, seniors, and individuals with chronic illnesses or disabilities.
With over 35 years of experience as an artist, dancer-choreographer, trainer-consultant, I am a practitioner of medical-sports therapy specializing in holistic care, sports-health, and well- being.
Throughout my career, I have assembled a rich and diverse toolbox of pedagogical and therapeutic approaches. This allows me to adapt the content and techniques of sports therapy based on your individualized and personalized treatment plan. I work as an APA coach with the Revesdiab-R2D network, collaborate with the ARS Île de France, MSPs (multidisciplinary health centers, public hospitals / AP-HP, medico-educational institutes / IME...), and provide home visits to patients and users.
As a committed artist with an unconventional path as part of the first generation of hip-hop dancers in France (1984-1988), I had the opportunity to enter the CNSMD Paris but declined. Since 1997, I have been an Associate Resources Person involved in national projects supported by the Ministry of Culture, Sports, National Education, and the National Dance Center Paris-Lyon, focusing on "cultural issues, education, and training challenges." With curiosity and a desire to perfect my practice, I enjoy staying in the process of creation, co- training/co-construction, and facilitating encounters between professional artists, athletes, and healthcare providers like yourself, students-practitioners of cultural and sports physical activities.
The training and tools I offer during your sessions include:
- Postural Ball®: sports-health and well-being activity, certified in the Nadine Garcia Method (Perinatology, Adults, Seniors, individuals in post-pathology or chronic illnesses), and a graduate in sports-health.
- Holistic muscle strengthening / strengthening-gym on a chair, certified State Diploma in teaching and RNCP fitness certification (MLC® method, de Gasquet, Feldenkrais, Munz®,
kinesiology, AFCMD, Ehrenfreid®, Mézières / somatotherapy techniques, gentle techniques: Pilates, Yoga...)
- Muscle wake-up and flexibility, certified State Diploma in teaching and a graduate in Sports- Health.
- Consultant practitioner in prevention and chronic diseases, university graduate in ETP (Education Therapy Program) - Faculty of Medicine, and a graduate in APA/Sports-Health, Prescription Sport.
If you wish to undergo a medical sports-health assessment, receive support in your personal development project, individualized and personalized treatment plan, or seek advice, please contact me by phone at +33 6 25 88 81 47 for a brief telephone conversation and/or to schedule an appointment.
• University degree in medicine - medical-sports therapist (chronic diseases)
• Sports-Health / APA degree - Forma' FSCF (Sports and Cultural Federation of France - Paris)
• BEATEP (equivalent to BPJEPS)
• CQP ALS AGEE / gentle techniques - Pilates-Yoga-Stretching- Muscle Strengthening-STEP LIA-Cardio training...
• State Diploma in dance education / CND-Paris
• Postural Ball® instructor - Nadine Garcia method (specialization: pregnant women / perinatology, seniors, post-therapy, children)
• Healthcare professional, medical- sports therapist - somatotherapy techniques / holistic care
• Teaching sports coach, fitness instructor
• Artist, performer, choreographer for nationally and internationally renowned professional companies
Why do I chose this profession ?
I perceive the body as a constantly moving architecture, our lifelong habitat. It is designed to stay connected, open to the world, and the universe. The body manufactures and creates connections.
If I am "standing" today, it is largely thanks to: Art, the quest for "meaning" through gesture, the act of creating, the movement in dance (musical phrasing, breathing, energy, the lines of force that run through us and animate us...), the artist-author-transmitters that I have encountered from the 80s until today, generous beings in search of answers. It is you, among others, the profession, my peers who came to me, spotted me, shaped me, guided me.
Since the 1990s, through an inclusive and holistic approach in art, sports-health, sports/art therapy, and medical sports-health, I have been advocating for a collective and/or individually personalized practice. I carry a vision that goes beyond aesthetics, gender, and disabilities. As a child of the Vietnam War, raised in France amid the violence inflicted on women, I love to transmit, share, and guide the practitioner towards their own direction, their quest for balance and harmony, well-being and pleasure, self-confidence, and self-esteem.
In the: • Postural Ball®, • Holistic Strength Training, • Chair Gym Training, • Muscle Awakening - Stretching, what varies and sets them apart is the level of intensity (low, moderate, high +/- intensity), the types of muscle contraction, and the sports equipment used. These methods/techniques/physical sports activities for your follow-up have common and general objectives:
• To maintain and preserve your health and well-being capital
• To maintain and develop your deep, superficial, and/or flexibility muscles
• To develop and regulate your cardiovascular-respiratory capacity, strengthen the cardiac muscle.
• To sculpt/tone/refine your silhouette
• To promote drainage-stimulation-regulation of fluids and endocrine secretions, elimination of toxins (reducing waist size, overweight, and weight loss)
• To prevent and alleviate back pain, musculoskeletal pains (shoulders, wrists, knees, hips, etc.), and potential chronic pathologies
• To develop body awareness (discovering and knowing the body schema, self-esteem, and self-confidence)
• To boost the immune defenses
• To improve stress and anxiety management, and the quality of your sleep
• To increase and release the body's vital life force energy
• To promote tranquility, balance, comfort, and well-being within you
• To gain mobility and range of motion, efficiency and economy of movement in daily life with an optimal and safe practice
• To remain flexible and attentive while developing a strong mindset