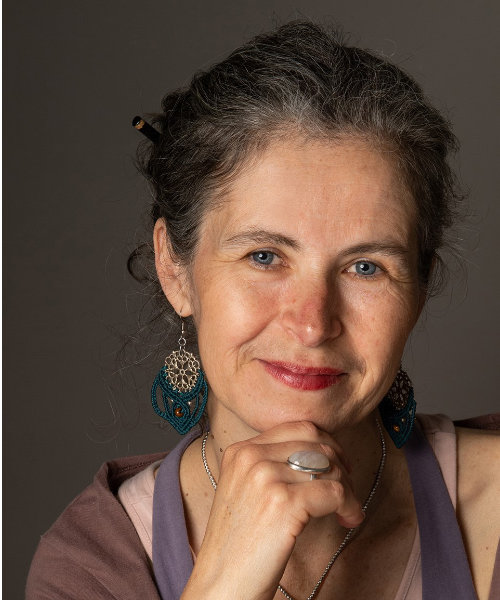 Mandala Artist Dynamic Art Therapy Practitioner
Dynamic Art Therapy Practitioner, Cassiopée Training, 2014
Mandala Level I and II Training with Sandrine Rouillon, Energetic Healer, 2017
Shamanic Mandala Training, Sandrine Bataillard Syama, 2017 (Level 1) and 2020 (Support)
Reiki Practitioner, Level 1 and 2 with Cécile Dahan, 2020 and 2021
Shamanic Practices Cycle, Wellfuz, Cécile Dahan, 2020-2021
Self-taught Painting Practice and workshops with various artists, painting and sculpture for 20 years, and workshop facilitation
French Guide Training for the National Museum of Bangkok, NMV Association, 2006-2007
Semi-intensive Training in Theater and Improvisation, La Seine sur Saône School, Lyon, 1999-2000
Why I chose this profession?
I am happy to accompany you in releasing your suffering and moving towards more creativity, authenticity... and joy of living. The practice of mandala has been a true path of healing for me and continues to accompany me on my journey as a creative woman. The mandala is a universal symbol... It connects us to the infinitely small (cells are beautiful mandalas... snowflakes...) and the infinitely large (planets...). It instructs us with sacred geometry... It is a guide that also connects us to the wisdom of indigenous peoples... It helps us realize unity within ourselves and around us.
I am convinced that each and every one of us has untapped potential that needs to be recognized and nurtured. Often as children, we are diverted from our deep aspirations... and it is a journey of reclaiming that we can embark on as adults, often during a life crisis, to reconnect with the parts of ourselves where our gems and talents are hidden... to recognize them, dialogue with them, and then offer them for a harmonious and meaningful life.
The practice of mandala allows us to release parts of ourselves that are in distress, conflicts, and disruptive emotions within a protective circle... this chaos... this disharmony... expressed in colors, shapes, symbols... can, if we are willing to transform it, become fertile ground for creation... Colors in themselves are a language that not only expresses our sensitivity but also electromagnetic waves that nourish us energetically.
The mandala offers us the opportunity for a dialogue with ourselves... reconnecting with our artistic creativity but also having implications in our everyday lives... Gradually, through the mandalas and listening to our feelings, greater harmony can be woven into all areas of our lives.
- Releasing and embracing disruptive emotions, anxiety, and discomfort
- Overcoming contradictions
- Being supported in relational and/or professional difficulties
- Quieting the mind and connecting with our feelings in the present moment
- Self-discovery and making decisions or choices that resonate with us
- Centering in the heart for more harmony in life
- Nurturing our vital force
- Allowing and developing creativity
- Developing intuition
- Cultivating Trust and Joy for a meaningful life!