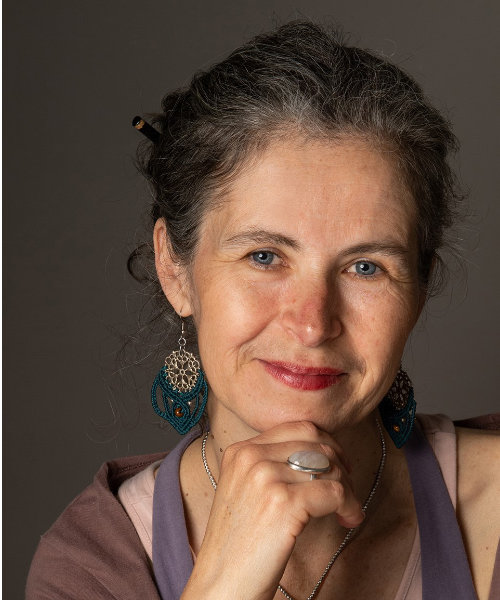 Marie-Laure Michaud Trottereau
Mandala Artist
Dynamic Art Therapy Practitioner
• Dynamic Art Therapy Practitioner, Cassiopée training, 2014
• Mandala training I and II, with Sandrine Rouillon, energy therapist, 2017
• Shamanic mandala training, Sandrine Bataillard Syama, 2017 level 1 and 2020 support
• Reiki practitioner, level 1 and 2 with Cécile Dahan, 2020 and 2021
• Shamanic practice cycle, Wellfuz, Cécile Dahan, 2020-2021
• Self-taught painting, then training in many artists' studios, painting, sculpture for 20 years and animation of workshops
• Training as a French-speaking guide for the National Museum of Bangkok, NMV association, 2006-2007
• Semi-intensive training in theatre and improvisation, Ecole La Seine sur Saône, Lyon, 1999-2000
I am happy to help you to put down your suffering parts and to go towards more creativity, authenticity... and joy of living. The practice of the mandala has allowed me a true path of healing and accompanies me today on my journey as a creative woman... The mandala is a universal symbol.... It connects us to the infinitely small... (cells are beautiful mandalas... snowflakes...) and to the infinitely large (the planets...). It teaches us with sacred geometry... It is a guide, which also connects us to the wisdom of early cultures... It helps us to realise the unity within us and around us...
I am convinced that we all have a potential within each of us that needs to be acknowledged and to unfold... Frequently as children, we are distracted from our deepest aspirations... and there is a path of reappropriation that we can undertake in adulthood, often during a life crisis, to reconnect with those parts of us where our "treasures" are hidden, our talents... to identify them, to dialogue with them, to appropriate them before offering them for a harmonious life full of meaning...
The practice of the mandala allows us to deposit the suffering parts, the conflicts, the disturbing emotions in a protective circle... this chaos... this disharmony... expressed in colours, forms, symbols... can be, if we want to transform it well... a fertile ground for creation... The colours are already in themselves a whole language, which while expressing our sensitivity, are also electromagnetic waves, which nourish us at the energy level.
The mandala offers us the possibility of a dialogue from self to self... which allows us to reconnect with our artistic creativity but which also has its implications in our daily life... Progressively, as we go through the mandalas, listening to our feelings, a greater harmony can be woven in all areas of our life.
- put down and welcome disturbing emotions, anxieties and uneasiness
- overcome one's contradictions
- be accompanied in one's relational and/or professional difficulties
- silence the mind and connect to one's feelings in the here and now
- know oneself better and to take decisions or orientations that are similar to oneself
- centre oneself in the heart for more harmony in one's life
- nourish your life force
- allow and develop our creativity
- develop your intuition
- grow in confidence and joy for a meaningful life!
Languages : French, English
Several types of consultations are available with Marie-Laure, information and booking below by clicking on the tab of your choice.