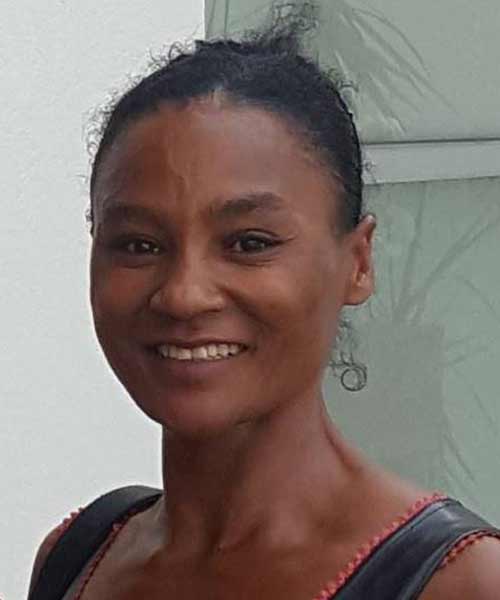 Medical-sports therapist for adults, pregnant women, seniors, people with chronical illnesses (long term/ALD, disabilities)
I have been an artist, dancer-choreographer, trainer-consultant for more than 35 years. I am a medical-sports practitioner-therapist in holistic care, sports-health & well-being.
Over the course of my career, I have built up a rich and diversified pedagogical and therapeutic toolbox. This allows me to adapt the contents and techniques of sport therapy to your individual, personal care project/course. I work as an APA coach for the Revesdiab-R2D network, and with the ARS Île de France, MSPs (multi-professional health centres, public hospitals / AP-HP, medical-educational institutes / IME...), and in the homes of patients and other clients.
As a committed artist with an atypical career path from the first generation of hip-hop dancers in France (1984-1988), I had the possibility of entering the CNSMD Paris and I refused. Since 1997 I have been a Resource Person involved in the national work carried out by the Ministry of Culture, Sports, National Education and the National Dance Centre Paris-Lyon on the subject of "cultural issues, educational and training issues". Inquisitive and with a taste for perfecting my practice, I like to be part of the process of creation, of co-training/co-construction, meetings between professionals, artists, sportspeople, health professionals, you, students and practitioners of cultural sports activities...
The training and tools that I propose are:
- Postural Ball® health sport & well-being activity, certified by the Nadine Garcia Method (perinatal, adults, seniors, people with post-pathologies or chronic illnesses), and certified in health sport
- Holistic muscular reinforcement / chair gymnastics, State diploma in teaching and RNCP fitness certification (MLC®, de Gasquet, Feldenkrais, Munz® method, kinesiology, AFCMD, Ehrenfreid®, Mézières / somatotherapy techniques, soft techniques: Pilates, Yoga...)
- Muscular awakening and relaxation, State diploma in teaching and diploma in Sport and Health
- Consultant practitioner in prevention and chronical illnesses, university diploma in ETP - faculty of medicine and diploma in APA/Sport-Health, Sport on prescription
You are interested in having a medical and sport-health assessment, in being accompanied in your personal development project, in your individual and tailor-made care programme, in being advised?
Contact me by phone on 06 25 88 81 47 for a short telephone interview and/or to make an appointment.
- University diploma from the Faculty of Medicine - practitioner sports medicine therapist (chronical diseases)
- Diploma in sport-health / APA - Forma' FSCF (French Sports & Cultural Federation - Paris)
- BEATEP (equivalent to BPJEPS)
- CQP ALS AGEE / gentle techniques-Pilate-Yoga-Stretching-Muscular training-STEP LIA-Cardio training...
- State diploma in dance teaching/ CND-Paris
- Postural Ball® teacher - Nadine Garcia method (specialisation: pregnant women / perinatal, seniors, post therapy, children)
- Health professional, sports medicine therapist - somatotherapy techniques / holistic care
- Sports coach, fitness instructor
- Artist, performer, choreographer for nationally and internationally renowned professional companies
I see the body as an architecture in motion, our habitat for life. Made to stay connected, open to the world, to the universe, the body makes and creates links. It speaks, shouts, revolts, loves, agrees, expresses itself...; gestures, flows and movements are language.
If I am "on my feet" today, it is largely thanks to: Art, the quest for "meaning" through gesture, the act of doing, danced movement (musical phrasing, breathing, energy, the lines of force that run through us and animate us...), the artists-authors-transmitters that I have met since the 80s until today, the generous Beings, questioning. It is you, among others, the profession, my peers who have come to me, identified me, forged me, oriented me.
Since the 90's, through an inclusive and holistic approach in art, sport-health, sport/art therapy, medicosport-health in favour of a collective and/or individual customised practice, I carry a vision that goes beyond aesthetics, genres and handicaps. As a child of the Vietnam war, brought up and raised from the violence inflicted on women in France, I like to share and accompany the participant towards his or her own orientation, his or her quest for balance-harmony, well-being/pleasure, confidence and self-esteem.
For - Postural Ball®, - Holistic Renfo, - Renfo - chair gymnastics - muscle awakening - relaxation that varies and is differentiated by the level of intensity (low, moderate, high intensity), the types of muscular contraction, the sports tools/materials used. The common and general goals of these media/techniques/sports physical activities for your training are:
- to maintain and preserve your health and well-being
- to maintain and develop your deep and superficial muscles and/or flexibility
- develop and regulate your cardiovascular-respiratory capacity, strengthen the heart muscle
- sculpt/tonify/refine your figure
- promote drainage-stimulation-regulation of fluids and endocrine secretions-elimination of toxins (slimming, overweight and weight loss)
- prevent, relieve back pain, osteoarticular pain (shoulders, wrists, knees, hips...), possible chronical pathologies
- develop body awareness (discovery/knowledge of the body schema, self-esteem and self-confidence)
- boost the immune system
- improve stress management, anxiety, sleep quality
- increase-release the vital force-energy of the body
- promote calmness, balance, comfort and well-being within you
- gain in mobility-amplitude, efficiency-economy of movement in daily life with an optimal and safe practice
- remain supple, attentive whilst developing a strong mind
Weekly classes offered at Wellfuz:
Tuesday 11am- 12pm: Renfo-chair gym

Tuesday 12pm- 1pm: Postural ball Pre- and Postnatal

Tuesday 1pm-2pm: Pre-Natal Postural Ball

Thursday 7-8am: Muscular Awakening

Saturday 10am- 11am: Postural Ball adults

Saturday 11am- 12pm: Holistic Renfo